Telemarketing call center services, appointment setting, Lead generation – Service BING
Our Telemarketing services consist of a live Call Center and also a voicemail marketing component.
Your campaign may start within 48 hours, or same day, depending on resource staff. We guarantee a 100% call delivery rate, on every call provided that your list has active telephone numbers. This keeps your throughput HIGH, and your costs LOW.
All staff members reside in North America, are local residents, and speak excellent English.
All our software is built in-house and is adjustable to your specific campaign needs. Need assistance with your sales script? Just ask, it's free. Our rates are "pay-as-you-go", or pay-per-call; you'll know in advance the cost of your campaign. Alternatively, you may choose hourly billing instead.
Our rates are lower than average due to, custom software, custom hardware, and a suggestive guiding algorithm. This results in ease of use, and higher production. We pass our savings to you, to make you more competitive.
Your metrics report will indicate the outcome of every call. Calls are categorized by type, and accompanied with an overview chart.
Receive call reports that show an overview of your campaign, and detailed log reports with the exact outcome of every call.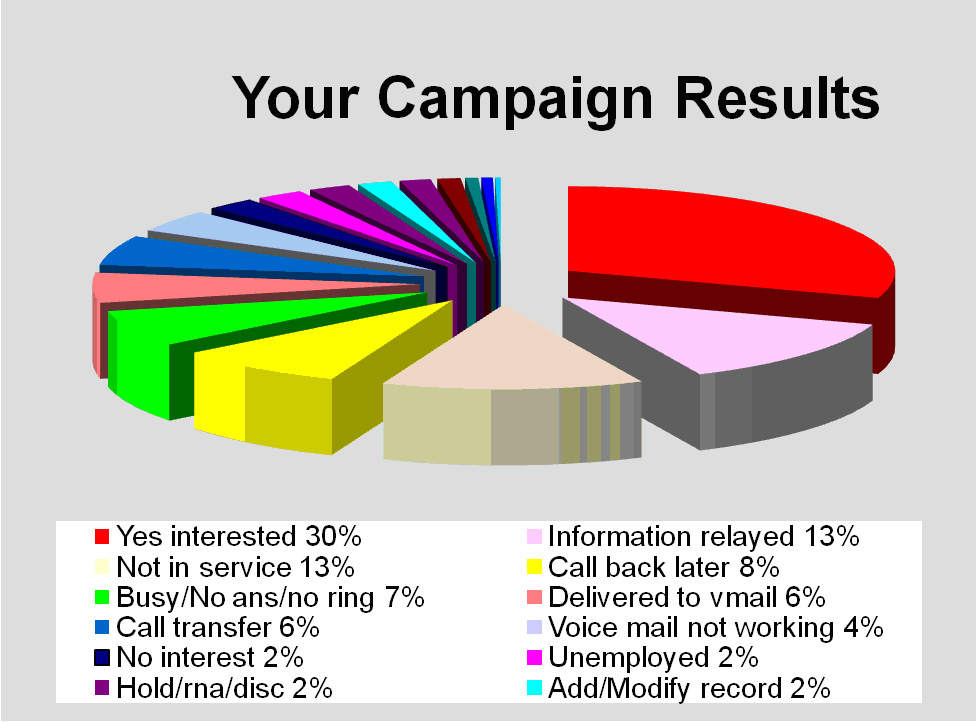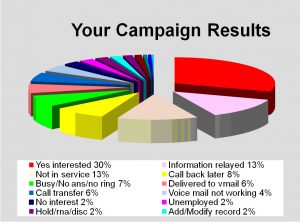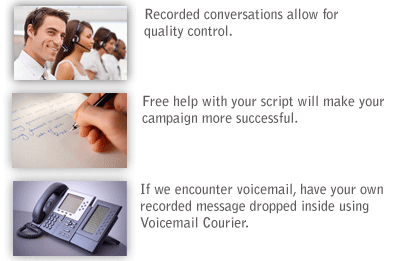 You'll be on-top of your campaign, and know your costs in advance. You can receive your leads immediately as they are discovered; to greater increase your chance of closing. This is called Electronic Lead Transfer, its all included in your campaign.
Don't select your Telemarketing service provider until you get a quote from us.
Live Staff: At Voicelogic, we will always have a live person here to answer your call, to service your needs, or to assist with your campaign. We are open from 7 am to 12 midnight each day, where you may speak live to your campaign representative, accounting dept, or to the operations center, to help you with your campaign.
We encourage you to visit our 8,000 sq ft facility, including the company owned building we occupy. All work is performed from our fully managed facility, owned and operated by Voicelogic.


What our customers say
"I have worked with Voicelogic on a few important projects and quite frankly, there is no other tool in my marketing arsenal more crucial than the telemarketing work that Voicelogic is doing for us. In terms of ROI, nothing comes close"
Richard Green.
Burlingame,
CA 94041, USA.
"It has been a great experience, different from any other company that we used before, first and most important the customer service, second your availability to speak and deal with us and resolve every request and issue that arises. The detail of reports are very complete and helpful.
Luis Noriega.
Rockville,
MD, 20850 USA
"David and his team exceeded expectations! We were very pleased with their results !"
Steve Rovith
Springfield
MA 01089, USA
"Just wanted to send you a quick note to say thank you for your time today. I made over 15 calls this week to different call centers and without exception you stood head and shoulders above all others. Your manner and presentation reflected professionalism, and industry knowledge, with the ability to listen and problem solve on your feet"
Laurie Weaks
St Charles
MO, 63303 USA
"Just wanted to touch on your conversation yesterday about how happy my company is with your services. Specifically in regards to how expedient and helpful and patient your tech support dept has been. Prior to "retaining Voicelogic services, we had used several other companies in the past and have always had to deal with late and/or poor services including frustrating and overly complicated software. Your staff makes using your services easy and efficient."
Robert Cicero
Ambridge,
PA 15003, USA