Live Call Center Service Linkedin
Some examples of outbound Call Center services we offer, consist of:
Appointment Setting
Start-up or Test market campaigns
Event Marketing
Lead Generation
Attendee Registration
Service calls
Contact Verification
(If your campaign type is not listed here, chances are we've already done it)
2,000 calls at $495




*Special Offer*




There is also a low-cost start-up campaign, which is priced at 2,000 calls at $495. It is intended for first time users. It is intended as a "TEST DRIVE". You are test driving our operations, service quality, quality of reports, online interaction, data management, dashboard, turn around speed, and of course your marketing campaign. Ask your sales agent about the current status of this promotion.
Why Clients retain us
We offer a professional service, with No Lock-in Contract. Its pay-as-you-go. Our rates are lower than average even though we are located in North America. We employ local resident staff to conduct your call center campaign.
Benefit from the power of advanced in-house software tailored to your needs. Professionally trained well-spoken North American workforce, and over 25 years of experience.
Clients outsource their outbound dialing to us because our rates are kept low, to ensure their bottom line. . We customize your campaign to ensure higher success. You will receive and review both positive and negative campaign feedback, from the market place. This will help to adjust your pitch or script for better performance.
We will help you interpret current market conditions and campaign feedback, so that you can understand the market reactions to your product. This will help you determine what prospective customers want to see from your product or service. This will help you shape your product or service to better suit the market needs.
We have experienced marketing campaign consultants to help interpret market feedback, and to adjust your pitch or script for free. We give free advice and best practices to ensure that you succeed, and return again as a happy customer. We want to prove to you that outsourcing your call center campaign to us, works. We want your business to succeed, and our partnership to remain.
Live Staff: At Voicelogic, we will always have a live person here to answer your call, to service your needs, or to assist with your campaign. We are open from 7 am to 11 pm each day, where you may speak live to your campaign representative, accounting dept, or to the operations center, to help you with your campaign.
We encourage you to visit our 8,000 sq ft facility, including the company owned building we occupy. All work is performed from our fully managed facility, owned and operated by Voicelogic.
What's Free?
While you are a client we provide the following free services to you..:
Free programming. We have programmers in-house on staff, every day to help you, with your live call center campaign.
Free list scrubbing against your negative file Free help with your script.
All campaign conversations are recorded for quality assurance.
Free daily consultation and techniques for campaign success, and script improvement.
Free daily reports charting your progress.
Free list deduping. Remove duplicate or bad data.
Free list dedupping, or removing duplicate records, so your campaign can run smoother.
Free lead tracking for you to see who is clicking on your own website. Use our free lead tracker service "Leadlocater.com".
Receive call reports that show
an overview of your campaign, and detailed log
reports with the exact outcome of every call.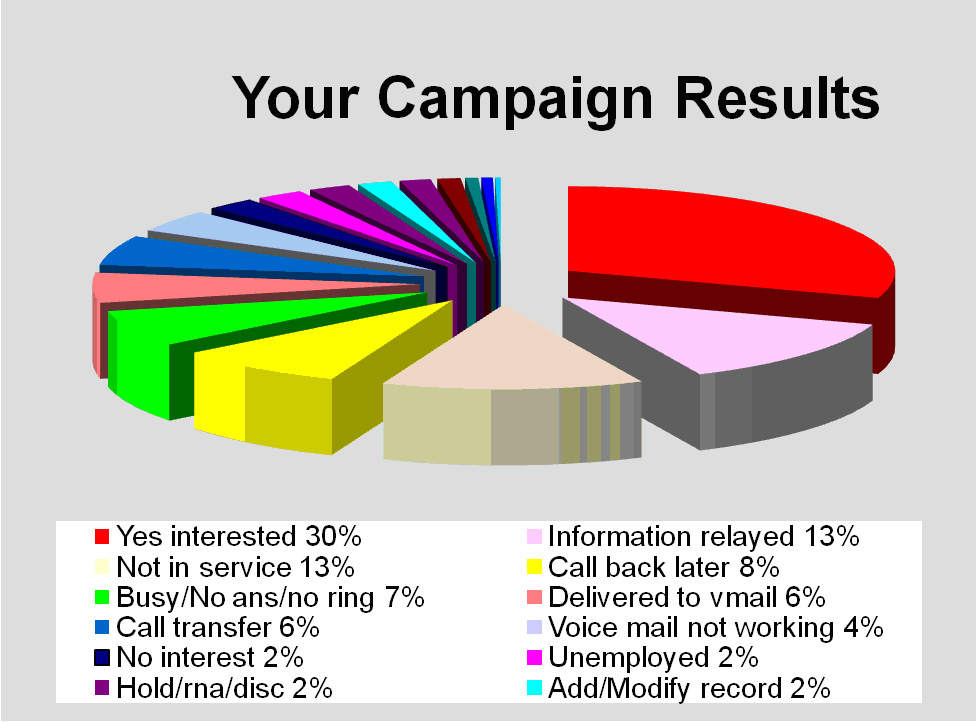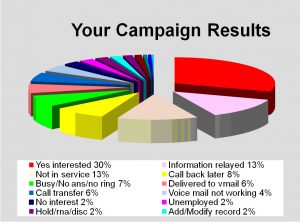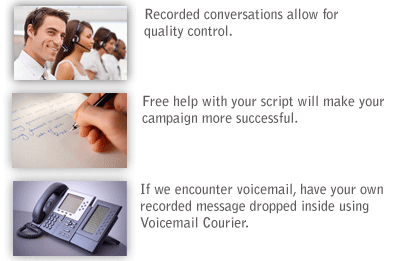 What you get
100% North American domestic workforce
Start your campaign in 48 hours
Experiment with trial campaigns
No lock-in contract
We take responsibility for your outsourced campaign. Your campaign will have a 100% delivery rate on every call. We speak to a live person, or we deliver a pre-recorded message into voicemail, with your voice.
Your campaign will start within 48 hours. All operators are located in North America, and speak with neutral English accent. You can start & stop your campaign to adjust your script for optimum results. We give you free feedback or consultation, on how best to optimize your script.
All our software is built in-house and is adjustable to your specific campaign needs. Need assistance with your sales script?, just ask, its free. Our rates can be on a per call basis; you'll know in advance what your campaign will cost. You may also choose per-hour billing, instead.
Your metrics report will indicate the outcome of every call. Calls are categorized by type, and accompanied with an overview chart as seen above.
You'll be on-top of your marketing campaign with progress reports and daily management. You can receive your leads immediately as they are discovered; to greater increase your chance of closing. This is called Electronic Lead Transfer.
Before you select your Outbound Call Center service provider, you need a quote from us.
Plans, pricing and service rates
Every campaign is different, with varying complexities, and client demands. To better serve you, and to give you the best accuracy, please call us for a quick and free quotation on your campaign requirements. Call us now at 1-866-611-7667
What our customers say
"I have worked with Voicelogic on a few important projects and quite frankly, there is no other tool in my marketing arsenal more crucial than the telemarketing work that Voicelogic is doing for us. In terms of ROI, nothing comes close"
Richard Green.
Burlingame,
CA 94041, USA.
"It has been a great experience, different from any other company that we used before, first and most important the customer service, second your availability to speak and deal with us and resolve every request and issue that arises. The detail of reports are very complete and helpful.
Luis Noriega.
Rockville,
MD, 20850 USA
"David and his team exceeded expectations! We were very pleased with their results !"
Steve Rovith
Springfield
MA 01089, USA
"Just wanted to send you a quick note to say thank you for your time today. I made over 15 calls this week to different call centers and without exception you stood head and shoulders above all others. Your manner and presentation reflected professionalism, and industry knowledge, with the ability to listen and problem solve on your feet"
Laurie Weaks
St Charles
MO, 63303 USA
"Just wanted to touch on your conversation yesterday about how happy my company is with your services. Specifically in regards to how expedient and helpful and patient your tech support dept has been. Prior to "retaining Voicelogic services, we had used several other companies in the past and have always had to deal with late and/or poor services including frustrating and overly complicated software. Your staff makes using your services easy and efficient."
Robert Cicero
Ambridge,
PA 15003, USA
To get more information about our outbound call
center, click here:
https://voicelogic.com/outbound-call-center/